I have written this post about Mosaic crochet for those of you who are thinking of giving it a try, or for anyone who has tried it and would like links to other resources. I will include lots of links to patterns and tutorials.
If you are looking for Christmas mosaic patterns click on my A Mosaic Christmas Post
here
I just want to quickly add here that I am in no way an expert in this form of crochet but I have done a bit of research and have learnt a few things myself while doing so. I won't be explaining how to do this technique but will provide links to expert designers who can do that much better than I can
I have discovered that there is more than one type of Mosaic technique the two most common I have found are Overlay Mosaic and Inset Mosaic. You can see the differentiation of the two here along with a link to a written tutorial. There is also a link to a new mosaic crochet group on Facebook of which I have become a member, there is lots of information on there and you can be inspired by other members makes.
Overlay Mosaic Crochet
Quick facts
Change colour on each row.

Worked in dc and tr stitches (English Terms)

You work from the right side of your work and each row is worked from right to left.

You always work in the back loop when working the dc sts and in the front loop one row down when working the tr sts.

You work from a chart and there is usually but not always written instructions.

You are left with lots of ends which can be...
Enclosed in a double border.

Woven in.

Left as a fringe.

Made into a twisted fringe.

Yarn can be added to make tassels.
This video
by
Tinna Thorudottir Thorvaldar
is is a great beginners guide
I have used Overlay Mosaic for these blankets...
Queen Blanket
The designer for all of these patterns is

Tinna Thorudottir Thorvaldar,

she has some excellent tutorials on YouTube you can find her channel here
All her patterns patterns can be found here on Ravelry.
This is the Hope square which Tinna designed during Lockdown and is a free pattern.
I have found that most overlay crochet patterns are paid which is quite understandable when you realise the amount of work that must go into both the written instructions and the charts that go along with them, however while writing this I did find this free pattern for this beautiful blanket below,
The designer is
Moira Douglas
from daisyknots the blanket was introduced as a CAL but unfortunately the links for each week are no longer available and the pattern is no longer free, but you can purchase the pattern on Ravelry see below.
Her Ravelry profile with all her patterns can be found
here
Another stunning design - Northern Tyles by

Mark Roseboom
This is a paid design and the pattern can be found on Ravelry here
This blanket designed by the craftsteacher was first introduced as interlocked crochet and is still available as such, I really wanted to make this but the technique seemed beyond me, happily the designer converted the pattern to mosaic during lockdown and offered it for free for a short while. I'm happy to say that I managed to download it before it became a paid pattern.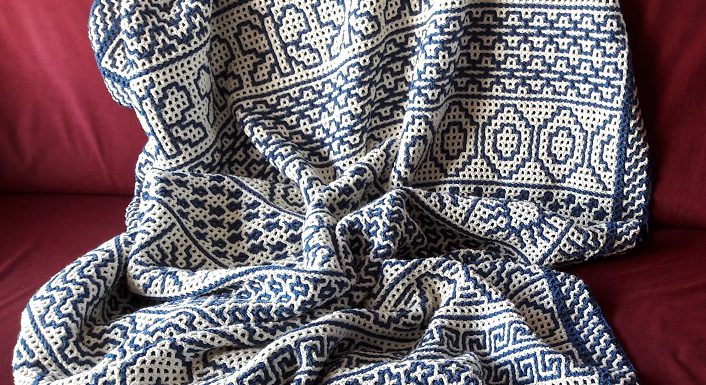 It's been named the HAL CAL and you can find it here
See my version now completed here

More Patterns below
Inset Mosaic
This type of mosaic crochet is uncharted waters for me and as such I can't wait to try it, because I haven't tried it I can't say which technique is easier or which produces the best result, this type does have less ends so that is in it's favour I would say but I will reserve judgement until I have tried it.
NB -
I have now tried this technique and although the results are lovely I much prefer the overlay form of mosaic crochet, I find it much easier and there are a bigger variety of patterns available.
Quick Facts..
You change yarn every second row.

You turn your work at each row.

You work in dc, chains and trebles. (English Terms)

You work from written instructions and there is usually a chart.

You can carry your yarn up the sides so there are less ends.
There are lots of free patterns and video tutorials for this type of Mosaic crochet, here are just a few that I have come across. These can all be found here on The Crochet Crowd website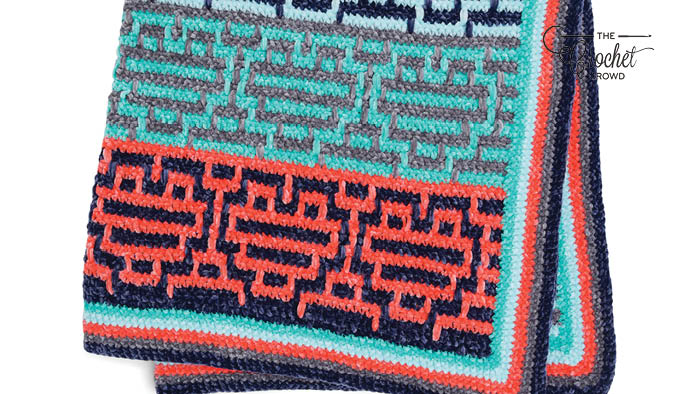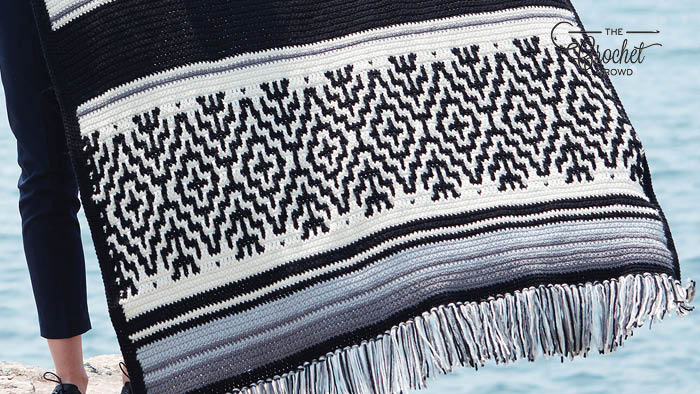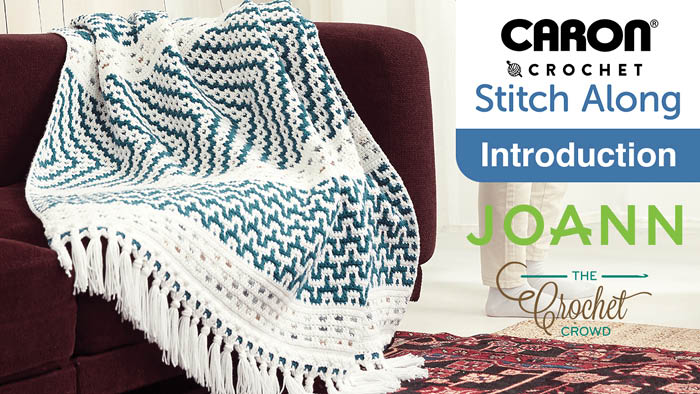 They all have video tutorials by Mikey.
i
Heart of Gold - designer - Rosina Plane a Paid pattern on Ravelry
Also published in..
I will add more as and when I find them and I will pin this post to the top of my blog so that it is always accessible.
Click below for some great Christmas Patterns.....